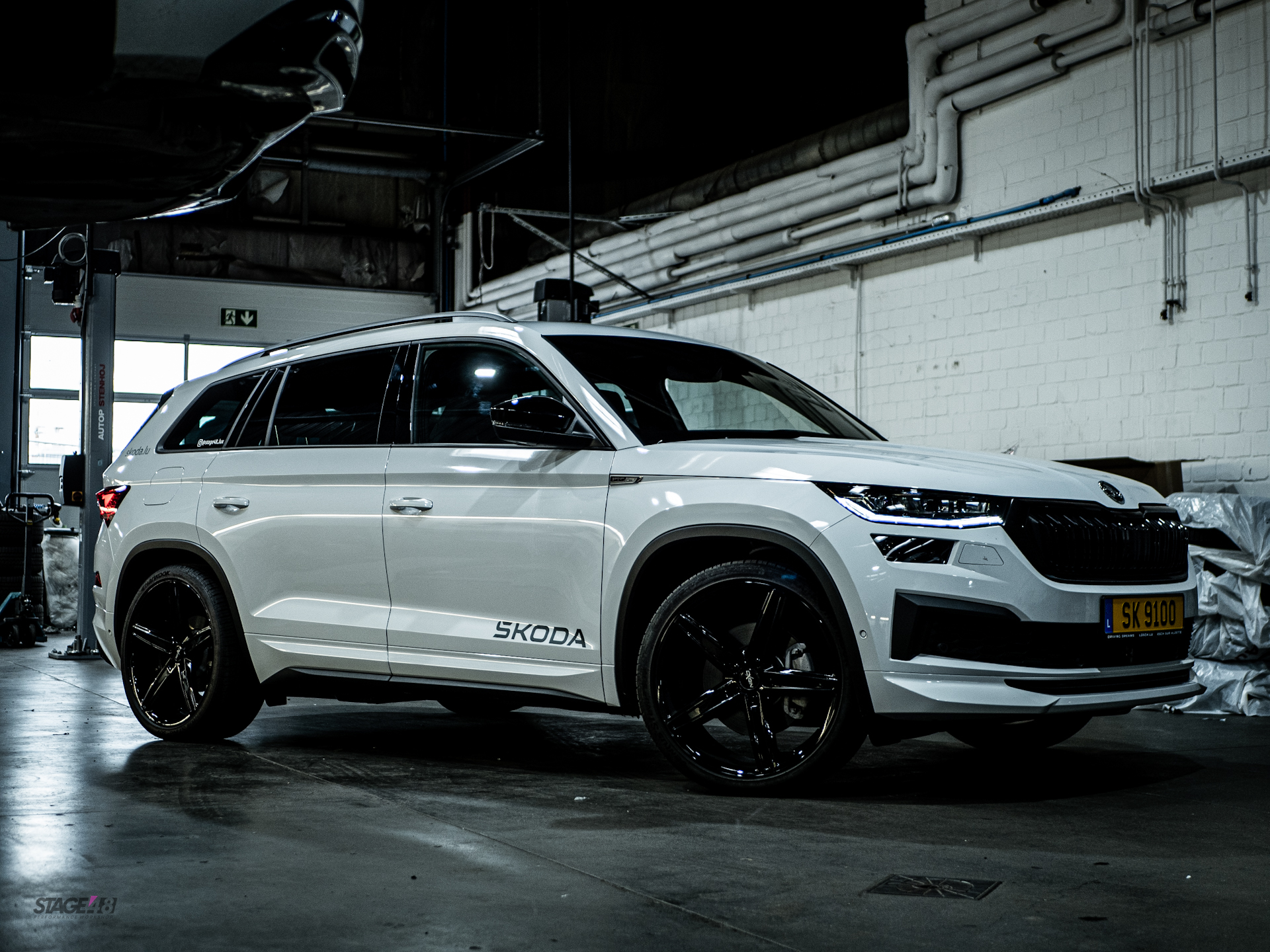 17 Jul

Škoda Kodiaq S-TDI

If you are looking for a spacious, comfortable and powerful SUV that can also turn heads on the road, you might want to check out our car project. We took a Skoda Kodiaq Sportline 2.0 TDI 200hp and gave it some upgrades to make it even more impressive. We lowered the suspension with ST coil springs for a sportier stance and better handling. We added Oxigin 21″ black gloss wheels for a sleek and stylish look. And we boosted the performance with an ECU-box from DTE that increased the horsepower to 230hp. The result is a stunning car that combines practicality, elegance, speed and efficiency.

Pricelist base model:
Model:
ŠKODA Kodiaq Sportline 2.0 TDI 147kW DSG 4×4*: 54.720,00€
Color:
[2Y2Y] Moon White 640,00€
Wheels:
[PJS] 8J x 20 "VEGA" light-alloy wheels, high-sheen finish, Anthracite, with active tyre-monitoring system. 960,00€
Function:
[3G2] Front right child seat anchorage (ISOFIX) 40,00€
[PF4] DCC – adaptive drive train control 930,00€
[PK0] Trailer hitch, removable with adapter 960,00€
Comfort:
[PHC] Stationary heater with remote control 1.110,00€
[PXB] Night Package 310,00€
[PKV] Windscreen with electric defrost + rain sensor with high beam
control 300,00€
[PN5] Matrix-LED headlights 1.140,00€
[PH1] Panoramic sliding sunroof 1.160,00€
[RA3] USB front and rear, 230 V socket 210,00€
[6NC] Black Suedia headlining 670,00€
Packages:
[WQZ] SportLine package 2.860,00€
Total: 66.010,00 € tax included

Pricelist performance parts
Performance:
[A118.460] DTE PowerControl X. 200hp→230hp |
400Nm→453Nm 689,00€
[A116.737] DTE PedalBox+ 279,00€
[PP1895DRY] Pipercross Performance air filter 69,00€
Wheels:
[OXIGIN189021LK112BLA] OXIGIN 18 CONCAVE BLACK 9Jx21 offset 35 5/112 66.6 2.688,00€
[8808563527154] HANKOOK VENTUS S1 EVO 3 K127A SUV MFS XL
255/35R21 98Y 1.036,00€
Suspension:
[273800BA-C] ST height adjustable spring set in Signal white with
custom "Skoda Luxembourg" engraving 846,00€
Service:
[ST48INST] Installation 1.100,00€
[ST48IND] Individual homologation 464,00€
Total: 7.171,00 € tax included

*CO2 Emission 174 g/km | Fuel consumption (combined) 6.7 l/100km

The total price of the Škoda Kodiaq S-TDI is therefore 73.181,00€ incl. VAT.

However, you can get hold of our demo vehicle from September for 49.990,00€ incl. VAT.

Interested?

Then contact us!